Our Staff
Dr. Michlynn Heide
Doctor of Chiropractic
Dr. Michlynn Heide, DMR Clinic Rogers' local chiropractor, grew up in Burnsville, Minnesota. She earned her Bachelors of Science degree in Human Biology along with her Doctorate of Chiropractic from Northwestern Health Sciences University in April 2009. Dr. Michlynn has extensive experience in treating a variety of spinal conditions, along with advanced training treating soft tissue injuries and headaches to improve overall health and wellness. She is passionate about working with an integrative wellness team to provide comprehensive treatment for her patients through chiropractic as well as physical therapy and more with the DMR Method. Her mission is to create a healthy community by educating and empowering as many people as possible to experience optimal, pain free health. Dr. Michlynn and her husband, Dale, love spending time with their daughters and dogs, exploring farmers markets and enjoying the great outdoors.
---
Dr. Benjamin Hartman
Doctor of Chiropractic
Dr. Benjamin graduated from Palmer College of Chiropractic in Davenport, Iowa, and was awarded their Clinical Excellence Award for his outstanding work. Prior to beginning his chiropractic studies, Dr. Benjamin graduated with a Bachelor's of Science degree in biomedical sciences and chemistry at St. Cloud State University in St. Cloud, Minnesota. Dr. Benjamin yearns for the opportunity to directly help people experience optimal health through chiropractic care. With his athletic background, especially in hockey and baseball, he can help athletes of all levels with injuries and with their overall performance. Dr. Benjamin & his wife Heather, live in Otsego with their German Shepard, Bella. He loves the outdoors, playing sports and coaching for Rogers Youth Hockey.
---
Julie Weinans
Physical Therapist
Julie grew up in Rogers, MN and has enjoyed watching the town grow from a small town to a bustling suburb. She graduated from a  physical therapy program in The Netherlands in 2002, where she received a very holistic and integrative education focused on superior patient care and rehabilitation.
She worked for many years with children with developmental delays in The Netherlands and South Africa. Then moved back to Rogers to be closer to her family.  She has worked primarily in transitional care, home care, and skilled nursing facilities for the last 6 years. She is skilled in manual therapy and deep tissue massage to reduce pain and improve function.
Julie lives in Rogers on the Crow River with her husband, 2 children, and multitude of pets. Her hobbies include camping, travelling, walks/hikes in nature, maintaining her small vineyard, and gardening.
---
Kelley McGowan
Physical Therapist
Kelley studied and attained her degree in Physical Therapy from Upstate
Medical University in Syracuse, New York. During her 26-year career she has
practiced in New York, Pennsylvania, Colorado, Oklahoma, and Minnesota
in various fields including acute care, sub-acute/transitional care, rehab,
geriatrics, home health care, hippotherapy, and out-patient orthopedics. She
has worked with therapy dogs, therapeutic dance, and therapeutic
horseback riding. Kelley is also trained in using Kinesiology taping
techniques for a variety of conditions. Her mission is helping people
recover fully and achieve their highest level of pain-free function through a
multidisciplinary team approach. Kelley lives in Otsego with her husband, three
kids, and two dogs. In her free time, she loves learning, being active
outdoors, traveling, and volunteering in various youth programs and
mission trips.
---
Valerie Brownlee

Massage Therapist
Valerie earned her degree from Touch of Life School of Massage. In her 19 years of practicing she has owned her own business in Hanover, MN as well as doing on-site massage for corporate businesses, and now also here at DMR Clinic Rogers. Valerie specializes in deep tissue massage and also offers myofacial release, prenatal massage, relaxation massage, cupping and hot stones .
Valerie lives in Buffalo, MN with her husband Robert. She has two children, a son (24), daughter (23), and two dogs. In her free time she enjoys being active, gardening, and spending time with her friends and family.
---
Dale Heide
Office Manager
Dale is the office manager at DMR Clinic Rogers. Prior to opening the clinic with his wife, Dr. Michlynn, he had over a decade of building and remodeling custom homes, traveling the country installing English conservatories and working with one of the Twin Cities' top granite companies. Whether acting as owner or employee, his experiences reinforced his belief that doing right by people is what is most important. He strives to bring that earnestness and sense of personal responsibility to everyone on the team at DMR Clinic Rogers, and giving patients peace of mind about their care.
Dale and Dr. Michlynn live in Nowthen with their 2 daughters, and 2 dogs. When Dale isn't working on clinic business, he enjoys building custom farmhouse furniture, golfing, hunting, and spending time with his family.
---
Marie
Front Desk
---
Bailey
Front Desk
---
Hannah
Front Desk
---
Carla Ann
Clinic Assistant
---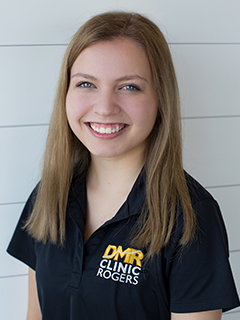 Shai
Clinic Assistant